US Consumers Appearing Less Confident
By Brian Horrigan, Chief Economist | 02 September 2020
Consumers are traditionally the engine of the US economy, and I believe consumer confidence is an important indicator of consumer intentions. The August reading of the Conference Board's Consumer Confidence Index suggests that consumers are not feeling optimistic.
The present situation
The Consumer Confidence Index has two components: the present situation and expectations. The present situation component assesses consumer confidence about current conditions. This component declined sharply in February through May, reflecting virus concerns and the unprecedented collapse in employment and national income. After encouraging gains in June and July, the component fell again in August. As you can see below, consumer confidence in the present situation remains quite depressed, reflecting the continuing crisis.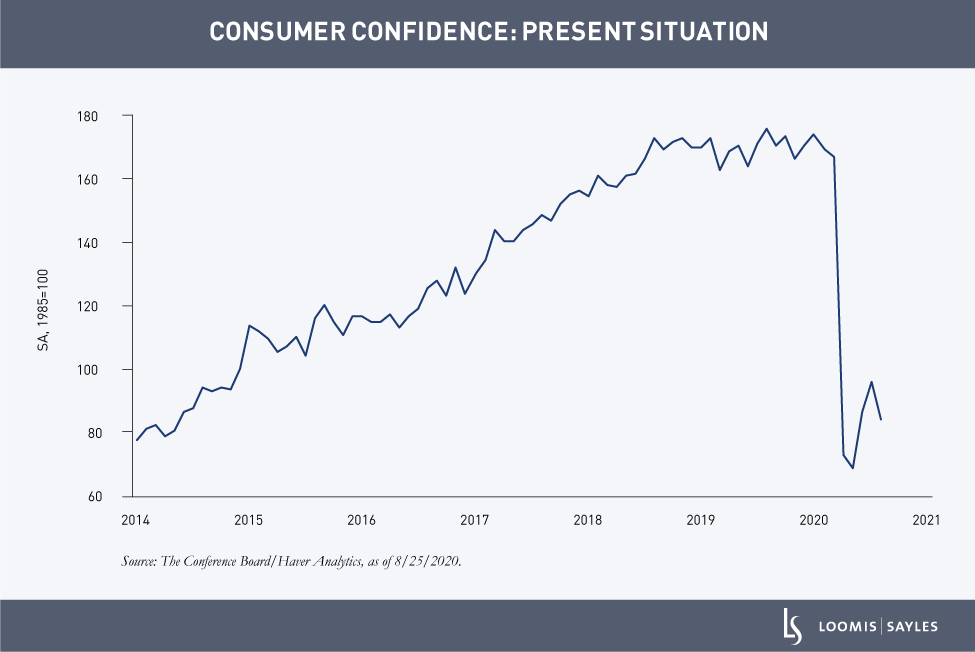 Consumer expectations
The expectations component assesses forward expectations of consumer confidence. This component avoided a precipitous drop during the pandemic—perhaps because people viewed the pandemic as temporary. But optimism may be fading. After rising in April, May and June, the expectations component fell 17.2 index points in July, one of the largest declines in the past 20 years. It fell another 3.7 index points in the August reading, taking the component to the lowest point since October 2016. Consumers do not appear upbeat about the future.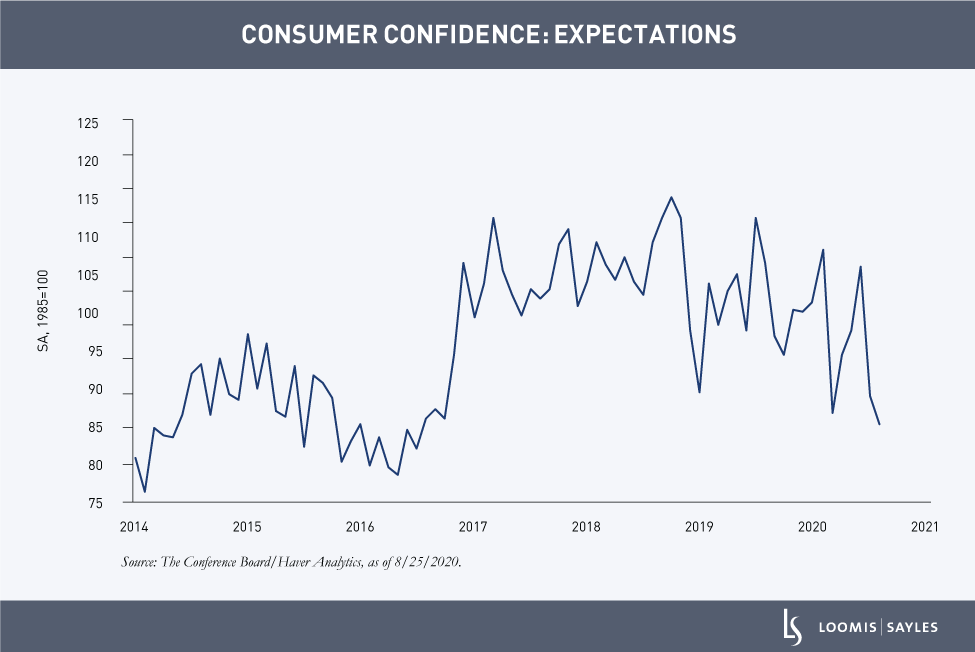 Low consumer confidence can translate to lower spending
I'm particularly concerned about the expectations component because consumers are unlikely to spend if they're not confident in the future. I expect consumer spending to rise substantially in Q3 from the low levels reached in the first half of this year. However, the drop in both components of consumer confidence signals that the recovery may be running out of steam.
The information in this article is provided for general information purposes only and does not take into account the investment objectives, financial situation or needs of any person. Investors Mutual Limited (AFSL 229988) is the issuer and responsible entity of the Loomis Sayles Global Equity Fund ('Fund'). Loomis Sayles & Company, L.P. is the investment manager.
This information should not be relied upon in determining whether to invest in the Fund and is not a recommendation to buy, sell or hold any financial product, security or other instrument. In deciding whether to acquire or continue to hold an investment in the Fund, an investor should consider the Fund's product disclosure statement, available on the website www.loomissayles.com.au or by contacting us on 1300 157 862. Past performance is not a reliable indicator of future performance